General Information
Name:
Nyxis Hanari
Age:
18
Gender:
Female
Rank:
Jounin
Village:
Kumogakure
Looks: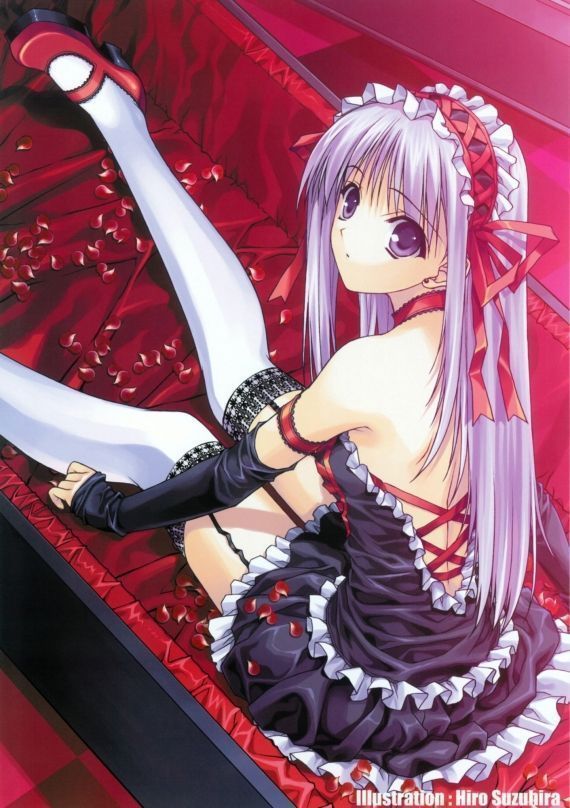 Personal Information
Personality:
Nyxis is a bit of a (insert swear word of your choice here). She doesn't believe in compassion or mercy. She hates anything girly and nice, and she enjoys hearing someone beg for their lives. Nyx is a very intelligent girl who can think of battle strategies in under a minute. She is always alert and doesn't sleep much at all. She also has Philophobia
Likes:
Nyxis doesn't like a lot of things in particular. She may enjoy torturing people and playing mind games with people, but she doesn't really like a lot.
Dislikes:
Ha. Almost everything. Nyxis dislikes cheerful people the most, though. And people who get stuff that they didn't earn
Fears:
Nyxis's only one fear is the one that her phobia is based off of. And that is falling in love
Sexual Orientation
: Straight
Relationship Status
: Not looking
Elements:
Earth and Lightning
Weapon Information
Kunai's, Senbon's, Shurikens, Medical Salve, and Normal First Aid Supplies. She also has a powerful sword which she is very skilled at using. This sword is usually charged with dark energy or lightning.
Jutsu Information
[Ninjutsu]
Name: Earth Release: Swamp of the Underworld
Rank: A
Element: Earth
Description: By changing the surface of an object beneath an enemy into mud and creating a swamp, the user can sink his enemy into the mud. The adhesive, chakra-infused mud ensnares the enemy's body, making it almost impossible to recover one's strength and escape from the swamp. The size and depth of the created swamp depends on the user's skill and the amount of chakra used, but if the user is an expert in this technique, it will always be possible to make a fair-sized swamp which is extremely effective against a great number of enemies or when having to face gigantic creatures.
~~~~~~
Name: Earth Release Barrier: Earth Prison Dome of Magnificent Nothingness
Rank: B
Element: Earth
Description: This technique traps the victims inside a self-repairing dome of earth which is almost instantaneously able to reform. the user is able to absorb the chakra of anyone trapped inside. However, the user's chakra is distributed throughout the dome, but not equally. Near the back, the user's chakra is much weaker, making the dome weaker in that spot.
~~~~~~
Name: Lightning Release: False Darkness
Rank: B
Element: Lightning
Description: This jutsu emits lightning in the shape of a spear from the user's mouth, which then pierces the enemy. Its destructive power is great enough to even pierce through rock; meaning it has a high killing potential. The user can increase the number of spears to attack multiple enemies. All these makes it next to impossible to evade.
~~~~~~
Name: Earth Style: Mud Wall
Rank: B
Element: Earth
Description: The user creates a solid wall of earth as a form of defense. Chakra is either converted to earth within the body and then spat out to form the wall or the user can manipulate pre-existing earth to form the wall. The earth then instantly rises up and takes form. The barrier itself is also coated with chakra, making its strength incomparable to that of a normal mud wall. Because of the earth's special characteristics, the wall is highly resistant against, for instance, fire and water.
~~~~~~
Name: Lightning Release: Shock Grenade
Rank: B
Element: Lightning
Description: The user weaves necessary hand seals, and then creates a small, grenade-like oval of compacted electricity in one of the users' palms. It is then thrown at the enemy, and within five seconds of its creation, it will explode. Electricity scatters in large amounts in the blast radius, lasting only seconds.
~~~~~~
((Adding the rest later))
Bloodline Information
Nyx's bloodline would be her eyes. These eyes are special; in a way, they are very similar to the Sharingan. But they are also completely different and unique. When activated, Nyxis's eyes take on this appearance:
These eyes let Nyx pause time for a total of ten seconds at a time. In this time, she can only effect herself. She may only use the eyes once every 12 hours. The eyes are called 'Chimeigan'
History and RP Sample
History:
Childhood: Nyxis's family had always feared her. She was the only one in the family to get the Chimeigan, and they all were afraid that she would kill them in their sleep easily with the eyes. So, Nyx grew up in hatred and fear, with little to no love. That's basically how her personality formed to the way it is now. She moved to the Hidden Cloud from the Hidden Mist when she was 13 years old. She needed to get away from her family.
Teenager (14-17): Soon, Nyx became a successful ninja. How Nyxis received her phobia, is from her first boyfriend. At age 15 her boyfriend had only wanted to go out with her to break her heart. He waited until he was sure that Nyxis was in deep love with him, and then he told her he never loved her and he never wanted to see her again. Nyx was emotionally scarred and now afraid of falling in love again.
Adult and onward: Later, when Nyxis turned 17, she was kidnapped and experimented on. The kidnapper sealed the 8 tailed bijuu inside of her and he intended to use her as a weapon. He abused her for 6 months before she finally killed him while she was in Bijuu cloak. She escaped back to the Hidden Cloud from there.
RP Sample:
Nyxis glared at the man in front of her. He has just burnt down an innocent woman's house for no reason. She wasn't happy with that. She activated her Chimeigan and quickly took out her sword. She placed it just in front of the man's heart and then she stopped her eyes and they reverted back to normal. The man stepped forwards, unaware of the sword. Nyx watched the man cough up blood and then his eyes go lifeless. She tossed him aside with a flick of her wrist and walked into Kumogakure to gather her things. Nyxis figured that once you kill a civilian for little to no reason, then you are probably going to be punished. She didn't want to be punished, so it was time again for Nyx to go on a little road trip.
Nyx gathered her essential items into her pack and locked up the house. She walked out the door and set on the road to go visit the Hidden leaf village.